It's not enough for us to just listen to great music - we want to make some too...so we are always looking for the sort of machines that make that distinct sounding acid bassline, or provide those crisp clean snares.


Below are details of the equipment we are currently toying with...



Moog Rogue
Octave Kitten II
Roland SH-09
Roland SH-101
Yamaha CS-01 (Mk II)


Casio CZ-5000
Korg Prophecy
Korg Microkorg
Novation Basstation


Roland JP-8080
Roland XV-3080 (Expanded)
Korg Triton Rack (Expanded)
Quasimidi Technox


Mode Machines x0xb0x
Korg Electribe EA-1 (Mk II)


Roland VP9000 (Expanded)
Emu E5000 Ultra (Expanded)


Elektron Machinedrum SPS-1UW+ MkII
Zoom SB-246


Korg MS-20ic
Akai MPD-32
Akai LPD8
Novation Remote Zero SL
Novation Launchpad
Novation Dicer
Kenton Control Freak Live


Mackie Onyx 1602 with Firewire I/O Card
Behringer Eurorack Pro RX1602
Behringer PX-1000
Behringer PX-3000
Behringer PX-2000 x 2


TC Electronics Finalizer Express
TL Audio Ivory 5021 MkII
DBX-266XL
Behringer MDX-4400
Alesis M-EQ230


TC Electronics M-One XL
Lexicon MPX-100
TC Electronics D-Two Digital Delay
Roland RE-201 Space Echo


Alesis M1 x 2


Akai 1721L Reel to Reel Multitrack


Steinberg Midex8 x 2
Digital Music Corp MX-8
Elektron TM-1


Roland M-1000
Behringer SRC2496
Midiman Digipatch x 2


M-Audio Delta 66 with Omni I/O
Mackie Onyx Firewire I/O


Asus P5W DH Deluxe Motherboard
Intel Quad Core Processor
4 Gb RAM
Nvidia GeForce 9600 GT

OS : Windows Vista 32Bit


40" Samsung 400PX
22 " Samsung Syncmaster 2232BW
19" Samsung Syncmaster 932N


Dell XPS 17 Q2670M Processor
8 Gb RAM
3Gb Nvidia GeForce GT555M

OS : Windows 7 64Bit


MOTU Ultralite Mk 3 Hybrid Firewire / USB


Ableton Live Suite 8
Pro Tools M-Powered 7.4
Reason 5
Soundforge Pro 10
Korg Legacy Collection
Various VSTs, Soft Synths, Editors & iPad Apps
Novation Automap
Serato Scratch Live 2
Serato Video
VJamm Pro 3
Sony Vegas Movie Studio HD
Sony CD Architect 5.2
Sony DVD Architect 5.0


Zoom H4


Technics 1210 (Mk II) x 2
Pioneer DVJ-X1 x 2
Numark iDJ Pro (with Apple iPad 3)


Rane TTM 57SL


Pioneer SVM-1000
Korg Kaoss Entrancer KPE-1


Edirol P-10 Visual Sampler
Edirol VC-300HD Multi-Format Converter


Numark VM03 Mk II 5.6" Monitors (x3)
Optoma HD65 & 90" Screen


Mackie Th-15A Active Monitors


WDTV Live Hub & Hauppage HD PVR


Marantz SR4000


Marantz DR6000


Tanglewood GSA-2
Tanglewood Rebel 4K
Dunlop Cry Baby Wah
Amplitude iRig


Bongos (Turkey)
Maracas (Cuba)


Oberheim OB-12 Analogue Modelling Synth
Novation K-Station Analogue Modelling Synth
Novation Super Bass Station Rackmount Synth
Novation Drum Station Drum Module
Yamaha SU-700 Groove Sampler
Yamaha AN-200 Desktop Synth
Korg Electribe ER-1 Drum Machine
Korg Electribe ES-1 Sampling Drum Machine
Roland SP808-EX Groove Sampler
Roland SH-32 Desktop Synth
Roland D-110 Rackmount Sound Module
Emu Orbit 9090 Rackmount Sound Module
Behringer Eurodesk MX3282A
Behringer MX2442a Mixing Desk
Behringer Ultrafex EX-4000 Psychoacoustic Sound Processor
Tapco MIX220FX Mixing Desk
Studiomaster 1602 Mixing Desk
Numark VJ-01 Video Turntable
Panasonic WJ-AVE-5 AV MIxer
Pioneer VSW-1 Video Switcher
Blackmagic Intensity Pro PC Capture Card
Red Sound Voyager MIDI Clock Generator
Korg K-25 MIDI Controller Keyboard
Akai MPD16 MIDI Drum Controller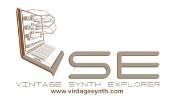 One of the best online resources for electronic music and the instruments that drive the sound forward, Vintage Synth Explorer give a great overview of classic synths from the past, including pictures, descriptions, specifications, manuals, values, and most importantly, whether they're any good...


A special mention goes out to James for his help and advice...a great place to start if you need help breathing some life back into those old analogue synths you found after visiting VSE...


A great place to visit if you need help and advice on anything studio related...


De Wolfe is the biggest independent film and television music library in the world, and celebrated it's 100th anniversary in 2009. A great source for moods, ideas or even sound effects, you can read about it's legacy here

© 2006-13 Image Creation Corporation. All rights reserved.