We said we would attend, but was it any good?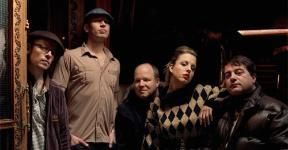 While we were taking in the sunset on the beach, listening to the sounds of The Cinematic Orchestra at Soundwave in Croatia, promoters Soundcrash provided a real treat for those back home. Obviously we couldn't make it, but we heard it was great...

Saturday 24th July - Koko, Camden, London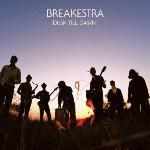 World Cup miracles aside (England would be due to play a quarter-final on one of these two dates) this is something to really cheer about. Is it two separate shows? Is it a collaboration? We've seen it before but with a new LP from Chali 2na out imminently, who can say? Either way this is going to be one funk fuelled night out...or two if you've got the stamina!

Friday 2nd & Saturday 3rd July - Jazz Cafe, Camden, London

With England's World Cup hopes properly scuppered by a combination of some dire group stage performances, some ridiculously late table-changing goals, some awful officiating, and an up-for-it fit young German side with a recent score to settle, Breakestra and Chali 2na were offering some light at the end of a very dark and disappointing tunnel. But rather than keep us guessing as to how this game was going to play out, Breakestra took to the stage early looking like they were properly bedding in, and after the initial limbering up by the Team, Chali 2na joins the band to roll those deep rhythmical lyrics out on top of the relentless barrage of funk breaks that Breakestra had to offer us. Two and a half hours later they're still going, and we're all starting to wonder if that drummer is actually human at all, or rather some 2010 incarnation of the Bionic Man. This gig won't be remembered for the intense heat that built up in the Jazz Cafe on this beautiful summer's evening in Camden, but will go down as one of the best gigs of all time. Many a memorable night has been spent on the balcony at the Jazz Cafe, and this one is right up there with The Herbaliser Band and The Quantic Soul Orchestra when they appeared here with Spanky Wilson. If music is the food for the soul, then we just left a banquet fit for a King...

...Football? What football?


Thursday 24th June - Barbican, London

To be quite honest with you, we sacked this one off as soon as we saw it was all seated! Who wants to sit down at a Quantic & Bamboos gig? I mean really....what were they thinking?



Rare live show from The Chemical Brothers, in which their new album "Further" will be presented to the public for the first time, in it's entirety, with complimentary visuals that suggest a DVD special of the album may be on the cards. Another one not to be missed...

Thursday 20th to Sunday 23rd May - Roundhouse, Camden, London

Oh yes! An LED spectacular that sets a new standard for big screen AV sets. The Chems always have to go one bigger don't they?....never a bad thing!

A Deluxe Edition of "Further" does indeed include a DVD...



Moving to Cargo to promote their new release "Trailer Trax", Ninja Tune's Hexstatic are sure to blow people away with their new VJ set, and we can't wait to find out what they're coming up with next...

Thursday 13th May - Cargo, Shoreditch, London

A great switch of venue for what was obviously meant to be a more subdued affair than the previous Videocrash extravaganzas at Koko. Launching a new album of soundtracks to their already legendary video mash-ups, "Trailer Trax" brings together heavy cranking bass, crisp drums, and dirty electronics to force those often keen to just stand and watch Hexstatic do their thang with the AV, instead get involved in causing a ruckus on the dancefloor. Heavily weighted towards the dubstep and drum 'n' bass, this new album of tracks perfectly compliments the movie trailer remixes Hexstatic have lovingly crafted, and gives us lucky punters the chance to get all our senses suitably stimulated.

Can't wait to see this in the Igloo at The Big Chill...

The new album "Trailer Trax" is out now, and can be downloaded here

Only one thing niggles me....where's the DVD?



Our first festival of 2010 is over...read the review here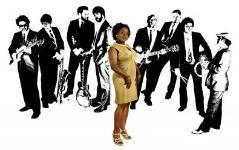 Daptone founders The Dap-Kings back soul mistress Sharon Jones as they embark on a massive tour of the UK and US in support of their new album "I Learned the Hard Way". With tours from The New Mastersounds and The Bamboos this year, 2010 is getting off to a funky start...

Wednesday April 14th - Koko, Camden, London

At last, after a few years of inadvertantly dodging Sharon Jones & The Dap-Kings at the Jazz Cafe, we finally get to see what all the fuss is about. Soul mistress Jones doesn't disappoint, and The Dap-Kings provide a tight but reserved backing for her to take the stage and do what she does best...own it! Rarely do we get a chance to see such a natural performer in their native habitat, and the sweetness experienced when she hits those soul bleeding notes has been a long time packed away in 1 penny jars. It just makes things feel right. A soul and funk phenomenon for sure, and at last, a well deserved treat for all those who attended an amazing Wednesday night sell out at Koko. Not as intimate as the Jazz Cafe no doubt, but I think she proves she deserves a bigger stage, and has earned the bigger audience.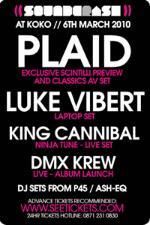 A night of electronica hosted by those workhorses Soundcrash, and again another great selection of acts they've plucked from three of the most entrenched labels in the electronic end of the spectrum. Warp Record's stalwarts Plaid provide an AV treat, King Cannibal represents the Ninja Tune camp, and Rephlex Record's DMX Krew show off their latest material with their new album launch. The only guy to record on all three of these labels seems the only logical way to end the night, and having experienced Luke Vibert in harmony with his laptop on several occasions before, it is definitely worth the ticket money alone...

Dirty acid, crashing drum breaks and a hand in just about every underground electronic genre transposed to vinyl over the last 20 years means Vibert knows exactly how to handle this crowd, and his finishing set gets more and more frenetic as the night comes to an end. Inevitably, there is liquid damage to the dancefloor, but rarely does Koko finish with a clean floor for these outings. With the pace and passion Vibert is knocking out these hardcore beats, it's everyone's heads that are going to feel like they've been put in a coctail shaker with the top loose by the end of the night...explosive!

Saturday 10th March - Koko, Camden, London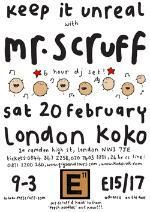 Mr Scruff's Koko residency is one of the most underplayed and underrated residencies out there. Ok, it's only every 3 months, and yes, it is a practice ground for those long festival sets, but with 6 hours of tweaking and rumbling taking you on an always unpredictable journey through...well...just about everything really, it's always been long enough since the last one for you to be really looking forward to it. In fact, it actually feels like something's missing when the festival season comes around and his schedule is just too full for a summer session. Ah well, plenty of festivals to catch up with him at...

Saturday 20th February - Koko, Camden, London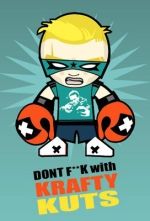 Krafty unleashes some new tracks and some new mash-ups for us to scream in jaw-dropping delight at. Tough to beat at the top of his game, there's no reason why anyone wouldn't want to stay up-to-date with the latest downloadable Krafty mix, but hearing over a booming sound system is the only way to go. Forget the MP3, go find a live Krafty set and let him surprise you...

Friday 19th February - Orange Rooms, Southampton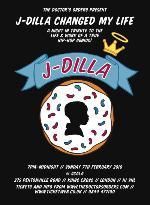 What better way to first check out how DJ Spin Doctor does his thing than to celebrate the music of hip hop legend J-Dilla, and what a celebration it was. Turntablist scratchmaster Shortee Blitz takes top billing, with rock solid back-up from regulars Mr.Thing and 'The Doctor' himself making this a quality line-up for budding beatmakers to come and see how much respect the pro's have for this guy. The night was laden with Dilla beats, breaks, cuts and scratches from all the DJs involved, and Room 2 even showcased a Hip-Hop Karaoke Dillaoke Special. Watch out for more Doctor's Orders Dilla tribute nights around the country...

Sunday 7th February - Scala, King's Cross, London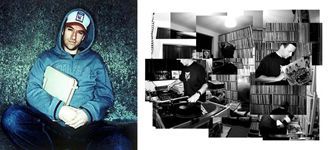 A pre-christmas treat sees Santa come really early for Orange Rooms regulars this year. We've seen these guys have a lot of fun cutting and scratching funk and hip hop at The Big Chill House before and it's definitely not to be missed...

Thursday 10th December - Orange Rooms, Southampton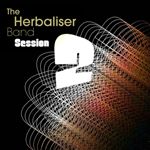 One of our longest lasting memories will always be seeing The Herbaliser Band at Camden's Jazz Cafe when 'Session 1' was released in 2000. As the band swept past us down those stairs as we finished our steaks, we took the balcony over for ourselves. The sound these guys made, along with an exceptionally up-for-it audience, made those gigs a stone cold funk filled freestyle festival of fun! Never since have we seen anyone allowed to dance on the metal platform above the stage, and the venue is worse off for it...

With the release of 'Session 2' comes another opportunity to relive those memories and hear the fullnes of that sound again, this time at the newly refurbished Plan B in Brixton. Anyone who hasn't experienced The Herbaliser Band as they themselves would want to be heard, should be leaving a big gap in their diaries around this one. If you miss it this time, there may never be another chance...

Friday December 4th - Plan B, Brixton, London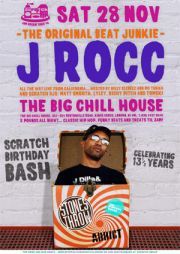 Co-sponsored by legendary hip hop label Stones Throw and the South Coast's coolest clothes label Addict, Beat Junkie J Rocc graces the Big Chill House to help celebrate of 13 1/3 years of Scratch (it's ok, you didn't read that wrong!). The Uk hip hop crew don't really need any reason to justify any celebration, as they continue to represent all purveyors of turntablism since landmarking the first Uk release on the legendary Rawkus Records. Lots of needle damage expected on the night, but surely the only way to really get to those hard to reach itches...

Saturday 28th November - Big Chill House, King's Cross, London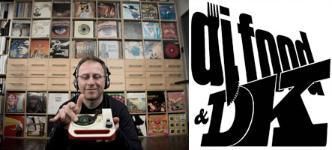 Ninja Tune's Solid Steel residents make the journey down to the South Coast to see what all this Orange Rooms fuss is about and show us what VJing is all about...

Thursday 19th November - Orange Rooms, Southampton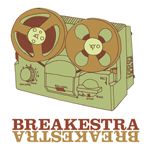 A long overdue return to the Uk for the kings of breaks jams, Breakestra embark on a tour to promote their latest album "Dusk Till Dawn". If you've not seen them before, then you're in for a mid-week treat. Don't sleep either, this one's likely to sell out quick...why not hang around for a while and see the old school sounds of Ugly Duckling the following night too?

Tuesday 17th November - Dingwalls, Camden Lock, London

Boy, these guys are tight! Easily the best live band we've seen since those heady days of The Herbaliser Band and Quantic Soul Orchestra's funk fuelled sets at The Jazz Cafe. The difference is that Breakestra attack their gigs like a starving cheetah chasing that last gazelle, and there's no way they're going to stop for anyone. Only after finally finishing and being bathed in the sweaty crowd's applause did they realise what excitement they'd generated, and from somewhere found the energy to come back onstage for another half hour encore. If it had been on TV, you'd have got knackered just watching them...this one's going to be difficult to top.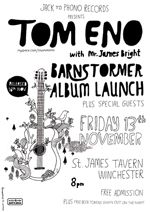 Jack to Phono Records presents the launch of Tom Eno's debut album release with a cosy little gig in a quiet pub in his home town of Winchester. Look out for Tom and Tape Club Records signing James Bright on the 'Barnstormer Tour' at various venues in and around London before Christmas...

Friday November 13th - St James Tavern, Winchester

A Barnstormer it was too...what is usually a very reserved place scattered with relaxed locals supping their pints, was transformed into a festival style hoe down full of people in the know getting the lowdown. Even the stand in cockney landlord and landlady were swinging it...you dig?

PS : Thanks for the message on the album cover lads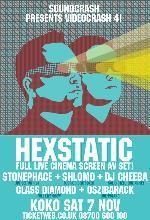 Another chance to see the fireworks that closed The Big Chill this year with Shlomo vs Hexstatic, plus laid back grooves from Cornwall's Stonephace and an AV set from the innovative mixmaster that is DJ Cheeba...

Saturday November 7th - Koko, Camden, London

The Soundcrash crew invade Koko again for another AV extravaganza, headed by Ninja Tune's pioneering duo Hexstatic. The wealth of material and experience they have stockpiled since their early experiments in the art of the audio visual means their shows are easily worthy of a regular residency as hosts of these Soundcrash events. Introducing colloborations with the likes of party DJs The Nextmen and beatbox pioneer Shlomo have made the guest slot at Videocrash events the source of much anticipation. After the amazing Main Stage closing slot at The Big Chill, this anticipation was partnered by expectation, and the night did not disappoint.

Koko was not the busiest it's ever been though, and DJ Cheeba will feel a bit hard done by that his much more sociable slot in the schedule didn't pull the normal Koko frenzy. Their loss though, as Cheeba's newly established AV sets are made for the Koko stage, and the gaps in the dancefloor only created the opportunity to move more freely, and ultimately made it easier to get our hands on a copy of Cheeba's promo DVD "The Reels of Solid Steel" from the man himself. Worth the ticket money alone...

The Stonephace sound would have been better placed before the main events rather than in between, as their loose grooves only served to relax rather than excite, and any vibe that Cheeba had generated was nullified somewhat. That's not to say they didn't sound good though, and we'll definitely be checking out their recent Tru Thoughts album release and look forward to some festival appearances in 2010. It was reliving 2009 that was the attraction for this night though, and it was Hexstatic's turn to look stunned by the sound as they stood in awe of the manic saliva ridden beats that Shlomo generated over their music. If ever there was a match for the energy that Hexstatic's video cuts can create when their set is peaking, then it's the bounding stage presence and quality of Shlomo and his beatbox skills. I hope it's only a matter of time before these types of collaborations are the norm, and we see a few stages at festivals become more like jamming grounds for acts to adopt and make their own. Maybe we should call it the 'Vs Festival'...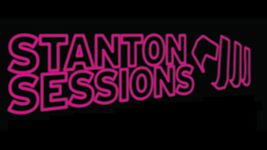 The Warriors return to The Orange Rooms, this time to promote the release of the third in the series of 'Stanton Sessions' mixes...

Friday October 30th - Orange Rooms, Southampton

A great 3 hours of eclectic breakdowns and booming breaks made sure The Orange Rooms sound system was given it's now regular Stanton Warriors rub down and work out. These two work hard to put together the ultimate set, and stay incredibly focused on their particular task for the duration of the gig. Constantly feeding off each other, comparisons to the Soulwax boys well honed performances are clear, and the way their sets build over the duration of the night shows not only their talent as DJs but also their passion as music lovers. It's very tempting to try and catch them again before they end their tour...perhaps a trip to the newly opened Orange Rooms in Bournemouth is on the cards?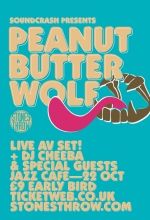 Stones Throw label boss Peanut Butter Wolf makes an all too rare visit to the UK, promising as always to deliver one of those sets that leaves you walking away from the venue in a state of shock and disbelief at just how good he was. Rarely do we get treated to this kind of quality over here, so when the opportunity plants itself in front of you, our advice is to take it...

Thursday October 22nd - Jazz Cafe, Camden, London

Yet again, DJ Cheeba delivers the goods, albeit to a slightly reserved Jazz Cafe crowd. Stepping up another gear again since we saw him last, and using his already honed Serato skills to step up to the AV plate with Serato Video-SL, Cheeba puts together a set of cleverly chosen TV and movie clips, skillfully synced and intertwined with some of your all time favourite hip hop videos, whilst still keeping the turntables as the tool of choice and showing off his scratching and beat juggling skills to the crowd. We're not even going to try and go into the details...it's just down to you to go and check him out for yourself now, and with opportunities aplenty in the run up to Xmas, both in London and on the South Coast, there's really no excuse. You will not be disappointed.

Lots of freely downloadable mixes are available at www.djcheeba.com

As for Stones throw label boss Peanut Butter Wolf, you have to give this guy respect for the way he handled this gig. Turning up looking really relaxed, he didn't bat an eyelid when failing to sync one of his decks to his laptop, and after trying seven different needles was resigned to the fact that the tools were just not going to work for him. A quick supermarket style call over the PA for some help, Cheeba arrives to offer him a makeshift solution that was obviously new to him, and within a few mixes he was working the one deck like he'd been doing it all his life.

Out flowed a great selection of old school hip hop classics and Stones Throw favourites, alongside some great archive footage of pre-video era soul and funk bombs made this a mesmeric show to watch, and we kept finding that we'd sub-consciously stopped dancing and were now staring open-mouthed at the two big screens either side of the decks.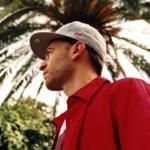 With the delays at the start trying to sort out the decks, PBW extended his stay way longer than was expected, and in the end we were more than happy with the nights entertainment. Can't help but wonder what it would have been like with 2 decks though, but at the same time, now he knows that he can do this with one deck, will we see his sets take on a whole new level of complexity after this show? It's not always a bad thing when things go wrong, and although it can be disappointing on the night, maybe they'll be a lot of people around the world that will benefit from this technical hitch when they see PBW in future shows...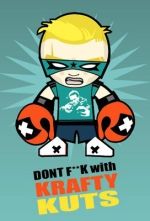 Finger Lickin' good! Krafty Kuts returns to the Orange Rooms to release some more booming breaks bombs out through the speakers...and with an album cover like that, who would argue with him?

Friday October 16th - Orange Rooms, Southampton

Go Krafty...Oh Yes!....Oh YES!!!...Oh No?...Oh NO!!!...Don't Go Krafty?!?

After an hour and half of carrying the expectation that this was going to be an immense night and we still had so much time left, Krafty Kuts disappears from behind the decks and off into a taxi, apparently to support Calvin Harris at the newly opened Orange Rooms in Bournemouth? I hope this isn't a sign of things to come? At least The Stanton Warriors are down for a 3 hour set at the end of the month...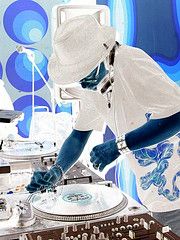 We know this is a long way off, but as soon we saw it, it was straight in the diary. Tokyo's finest meet to beat battle their way through a night at Koko. Billed as 'The Master vs The Prodigy' this could possibly be the most exciting gig announcement of the year?

Saturday October 3rd - Koko, Camden, London

Well, exciting it really was. DJ Dysu nearly brought the house down (literally) with his foundation shaking dubstep before the main event kicked off, and the anticipation as DJ Krush took the stage was magnified by the space left to his right for what was obviously going to happen later on in the evening. Some innovative use of the sampler was the theme for Krush, with snares being caught, manipulated and scratched in real time to add new dimension to the percussive rhythms he'd burnt to wax in his hayday. The lack of a deck-cam was a massive disappointment though - something that with today's technology should surely be a given for scratch DJs. The set got more intense and experimental towards the end, and it was time to bring in the new school.

Kentaro arrives with a massive smile on his face, and joins Krush for a 20 minute joust that sounds much more like a collaborative performance than a DJ battle. Clearly enjoying each other's contributions, the turntables were respectfully being treated as instruments rather than weapons, and by the end both were humbly keen for the other to take all the applause. If there was a message, it would have been for Mutual Respect, Peace, Love & Turntablist Jamming for all.

This gig was billed as 'The Master vs The Prodigy', but in reality, what Kentaro can do with decks and vinyl is streets ahead of Krush's amblings, and for anyone new to turntablism, it would have been difficult to understand who was filling which role. The deck-cam is there, broadcasting the skills for us all to see, and the show gets properly under way. Displaying just about every different scratch technique, and clinically picking the appropriate style mix for the records layed down, Kentaro dropped bomb after bomb before destroying each with his unique brand of beat juggling. Teasing you with records you know for a minute or so whilst placing an identical record on the other deck, Kentaro turns your favourite tracks upside down before flipping them over and mangling them into drum and bass monsters in a way only he can execute. All the while Kentaro keeps it so slick he can still find time for tricks and spins, and as always he performs with an unmistakable cheeky cockiness that never comes across as arrogant.

He just loves this game, and like a little kid in a toy shop, he just didn't want to stop. Realising his set had gone way over the next DJs alotted time, and with only 20 minutes 'til the doors shut, he got straight back on the decks and finished the evening off with a final session of golden era hip hop classics, making sure the floorboards took another gigantic shake, and everyone went home feeling like they'd been treated to something really special. A night to remember.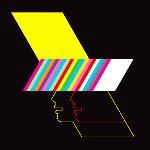 A rare DJ set from Aphex Twin, billed alongside one of our favourite producers - Luke Vibert means that this should be a fantastic night, and these Rephlex parties at The Warehouse Project in Manchester are getting quite a reputation...can Matter provide the tools to make this a worthwhile London alternative?

Saturday 26th September - Matter, O2 Arena, Greenwich, London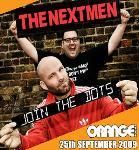 Another Nextmen Party! Returning to the Orange Rooms to promote their new studio album "Join the Dots", Dom and Brad aka The Nextmen aim to 'mash up the place' in a style that they can only claim as their own. The slick routine means a bombardment of beats, quick cuts and tight scratches over eclectic breakdowns and tough vocals. Styles are switched just as clinically, with everything from soul, funk and hip hop to reggae, dubstep and drum 'n' bass put into the melting pot...

Friday 25th September - Orange Rooms, Southampton

Yet again these guys do the business, and after attracting by far the biggest and best crowd at this year's Big Chill, it's a little disappointing to see some gaps in the dancefloor at the Orange Rooms for this one. With such a great venue, and a sound system to match, the people of Southampton should be thanking the organisers for booking acts like this by making sure these boys want to come back! You could tell The Nextmen had slipped into cruise control by the end of the night by the records they didn't play. That aside, there was nothing to stop us having the night we knew were going to have, and we all went home with satisfied grins on our faces. Ain't no party like a Nextmen party!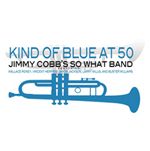 Remembering the classic Miles Davis album that changed the face of recorded music in 1959, this special concert marks the 50th anniversary of the release of "Kind of Blue" by inviting the only surviving member of the original recording to perform at the Tower of London. Legendary drummer Jimmy Cobb and an all-star band of jazz greats will perform their interpretations of all the songs from that timeless recording, along with other classics and some original compositions. A once in a lifetime opportunity...

Thursday September 17th - The Tower of London

The Tower Festival's extravagant festival furnishings transform the gardens surrounding the Tower of London into an open air music stage for well respected performers from the classical arts to get an atmospheric airing. A cold and damp September evening sees the crowd's sustainance tested to the limits, but for those who came prepared, the rewards were to hear the haunting sounds of Miles Davis' classic 1959 album perfectly compliment the ambience created by the moodily lit walls of one of London's most historic buildings. The presence of Jimmy Cobb on the drums made it all the more special, and seeing the effortless skills and natural musicianship of the performers making up the rest of the 'So What Band' reminds us that legends such as these have the gift of music running right through their veins. An absolute treat...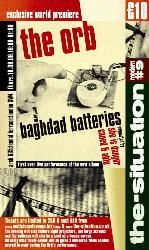 Promoting the release of their new 'Baghdad Batteries' album, this special interactive launch party looks like something special. 8 projectors, 2 large screens, and numbered white suits for everybody on entry means they will be part of the projections themselves too. You'll have to be quick though, with only 250 allowed entry, these tickets are sure to be scarce. With ours already in the bag, we'll see the other 247 of you there!!!

Thursday September 10th - Arch 635, Clapham, London

Not quite the spectacle we were expecting, but great fun nonetheless. For some reason we had a sit-down, auditorium style venue in our heads when imagining how The Orb were going to create the white suited 'human screen' described in the promotional blurb. When we arrived, it was an arched brick sweatroom that was to house us and the psychedelic projections for the night. Not ideal when there's additional clothing handed out on the way in! Regardless, Orb founders Alex Patterson and Thomas Fehlmann tweaked their way through some timeless Orb classics, in amongst their new 'Baghdad Batteries' material, and provided a colourful and complicated backdrop for everyone to try and take in and enjoy, before setting off on their tour of the album. Catch them again at various places around the UK and Europe over the next couple of months.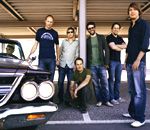 A return to the Jazz Cafe for the Berlin collective, and with an after party hosted by Sonar Kollectiv's DJ Alex Barck, this is sure to be a lesson in genre fusing, and a great way to hear the latest jazz influenced tracks, in a more than appropriate setting...

Friday September 4th - Jazz Cafe, Camden, London

Dining on the balcony at the Jazz Cafe was a great way to take in the first London performance from Jazzanova's full live band, and the grooves they produced, performed in such an intimate setting, made sure the tables were redundant as soon as the last plate had been cleared away, and the feet were always going to be looking for space to move. With the dancefloor packed downstairs, we were glad for the extra room. Great musicianship, soulful vocals, and funky beats at the core, Jazzanova still managed to bend and twist these themes and apply to them a much more diverse range of music than could have ever been expected. A great demonstration of what is achievable with skill, and a love for all different types of music. The 2nd encore was just a monumental funk jam. Excellent night!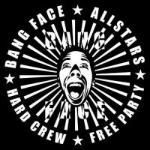 The free guestlist is already full for this great looking mini-festival, but free entry is still available if you turn up at 11pm and are lucky enough to get in. Awesome line-up with all your Bang Face favourites, including Altern8, Luke Vibert, Ceephax Acid Crew, Ragga Twins, Slipmatt, Mike Dred, DMX Krew, Remarc, The DJ Producer, Bizzy B, Shitmat and DJ Scotch Egg, Ebola, Gino Ginelli, St Acid and The Hard Crew. See you in the queue!

Friday 28th August - The Arches, London Bridge, London

Oh YES!!! What a way to spend the Bank Holiday weekend! A sweaty warehouse venue in central London playing host to an impromptu Bang Face party, which on first arrival, appeared to be way too small to fit the long queues of people waiting in anticipation outside. In genuine TARDIS like fashion though, the inside seemed to comfortably hold even the biggest of Bang Face grins, and in the end, not a single soul was turned away. With Mike Dred banging out classic techno from the past, and Luke Vibert's dirty warped acid funk eagerly supported by The Ragga Twins, the main room just got hotter and hotter. By the time Altern8 had finished whipping through another faultless selection of classic rave era tunes, and Slipmatt had churned out the breakbeats, the place was dripping. As club nights go, this one was a contender for best of the year. In our eyes, the only thing that springs to mind as coming close was the Solid Steel 20th Annniversary bash last year. On top of that, it was free! Bring on the next Bang Face, bring your friends, and let's all bring the noise...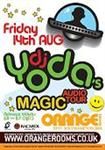 DJ Yoda brings his Magic Audio Tour to the South Coast's coolest venue...

Friday August 14th - Orange Rooms, Southampton



The Plumps swift return shows how much they enjoyed the response from the Orange Rooms crowd last time around. With their set honed for the upcoming peak of the festival season, expect a busy and booming Friday night out...

Friday July 24th - Orange Rooms, Southampton

We couldn't make it to this unfortunately, but the report back from the floor by text message was simple..."Dirty dirty filth"



A rare DJ set from 'Your Mom's Favourite DJ', Kid Koala exhibits his turntable skills in the newly refurbished Garage in Highbury...plus support from fellow Ninja Tuner DJ Cheeba, this should definitely satisfy those hard to reach itches...

Thursday July 2nd - The Garage, Highbury, London

The launch party for this great new venue was worth every penny of the entry fee, and sporting a line-up like this shows good intentions on behalf of the organisers to make this place work. From what we saw, there is every possibility it will, with a good sound system and a well constructed space, we'll definitely be keeping an eye on the line-ups as they get announced for a return visit.

Ninja Tune's new golden boy DJ Cheeba is one of the most exciting up and coming DJs we've seen. This is the third or fourth time we've seen him in the last year, and each time you can see he's honing his skills, and his sets are progressing. The best thing is, he's embracing the technology rather than abusing it. A lot of DJs using Serato or Ableton these days are finding their job has got easier, and rather than have their ambitions change, they just have an easier life. Cheeba is not one of them. He has taken the opportunity to develop new skills, and find new ways of finding the perfect mix, and entertaining crowds on a whole new level...and he's doing it very well. If you want to see what's possible with Serato, but still keep that distinctive turntablist flavour to your set, you could do a lot worse than going and checking out DJ Cheeba's next live set.

When it comes to 'keeping it real' and sticking with vinyl though, Kid Koala isn't a bad shout either...and the obvious enjoyment he gets from mixing records is one of his most endearing characteristics. It's all just such good fun!!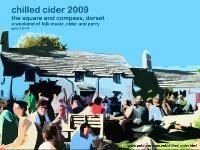 The Big Chill's Pete Lawrence hosts a festival of sorts, with live music and DJs aiding the flow of cider in a beautiful area of the Dorset countryside...

June 13th & 14th - The Square & Compass, Worth Matravers, Dorset

Marred slightly by an unexpected misty fog that came in off the sea and hung around far longer than anyone was happy about, The Square and Compass was churning out ciders whilst Pete Lawrence's guests provided a very chilled selection of music to sup to. All that was left was for the Cornish kilted Gaz's Rockin' Blues to activate all those dormant inebrients by whacking on some drum and bass, and sending the whole pub doolally with a fine selection of rockabilly and jump blues, soul, funk and whatever else that sprung out of his strictly 7" record box. There was a whole load of shakin' goin' on...



Ok, the last one was disappointing compared to the first, but this time they've made sure they don't get mixed up with the second rate acts that filled the gaps in the bill for Videocrash 2 by inviting The Nextmen to join them in keeping up the party vibe. Promises of supplying the visuals for The Nextmen's set make it an exciting collaboration...

Saturday 6th June - Koko, Camden, London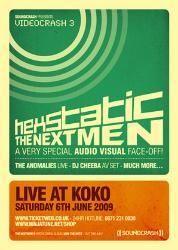 Another great night at Koko, and proof that some big clubs do work. A feisty opening set from The Anomalies lifted the tempo and the temperature before Hexstatic work their magic with the AV. Gladly working some classic mash-ups into their current set, the party really got going, and in anticipation of The Nextmen adding to that, bodies started moving freely, and the drinks started spilling on the floor. By the middle of The Nextmen's set, you were lucky to be able to lift your feet off the whisky soaked floorboards without leaving your shoes behind! All great fun though, and although The Nextmen lost a bit of flow towards the end, DJ Cheeba easily made up for it with a great mix of music. Just needs a Solid Steel release now and we'll be happy...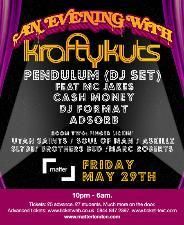 This line-up looks spectacular! With support acts like Cash Money and DJ Format and Room Two hosted by the Finger Lickin' Records crew it's difficult to see how this can be turned down? To top it all it's only a fiver...

Friday 29th May - Matter, O2 Arena, London

We really don't get this club. The decor is non-existent and creates the most sterile atmosphere we've experienced in any place we've been to, let alone something as uplifting as a music venue. The security and bar staff reflect this, as would anybody who has to work in such uninspiring surroundings. The sound system was hyped up so much when the venue opened, yet 8 months on the main room sounds muffled and severely lacking in top end. By their own admission they had problems getting the sound right in the run up to the opening night. Hoping this would be sorted a few months after our first visit, we were bitterly disappointed. It may look good on the EQ, but the sound engineers in this place need to go back to basics and use their ears. To have DJs such as this grace the stages, yet to walk away thinking how much better it would've been in another venue seems a travesty.

Still, seeing Format warm up for Cash Money, and Krafty Kuts top bill paving the way for a Pendulum drum and bass DJ set made for great entertainment. We just wish the promise of this venue was backed up by delivery. Otherwise we can't see a return visit again soon, no matter how good the acts are they're booking...



With his 3rd album "Sort of Revolution" due out on Ninja Tune, Fink picks the ideal venue to showcase his acoustic songwriting skills. His intimate set at The Big Chill last year was a highlight of the festival...

Tuesday 26th May - The Roundhouse, Camden, London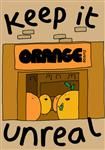 Mr Scruff brings his 'Keep It Unreal' night to the south coast, encouraging more wobbly legged action...

Thursday 21st May - Orange Rooms, Southampton

A full on Mr Scruff tea party is just what the doctor ordered. With Scruff's set-building skills on full show, and the upstairs taken over by the touring tea shop, all the flavour of the 'Keep It Unreal' nights was transported to Southampton's finest venue, and room on the dancefloor was made to welcome the Scruff sound system and the inevitable leg wobbling action that would ensue. Taking you on that roller coaster ride we've talked about on these pages many times before, Mr Scruff warmed up in perfect harmony with the speakers, and by the time he'd got in full swing, the bass was booming and crowd were loving it. So much so that one girl even decided she would lose her inhibitions to such an extent that she needed to start making love to the bass bins! Entertaining though that was, and although the smile stayed a long time on her face afterward, I can't help thinking she may have woken up needing an appointment with the doctor herself to check out her burst eardrums. All in all though a great vibe in the Orange Rooms, and a reception from the crowd easily good enough for Mr Scruff to be pencilling in a return journey well in advance. Great night...



A rare chance to experience Tom and Ed in intimate DJ mode, with the Fabric sound system inevitably due for a pounding during this exclusive one-off London show. With A-Trak holding an album launch party along with the Scratch Perverts in the second room this is looking like a very entertaining night out...

Friday April 3rd - Fabric, Shoreditch, London

Not often you'll say it, but claustrophobia on the dancefloor caused some uncomfortable moments, and in the end, the friendliest people in the club that night were the bouncers! Nothing was going to stop us enjoying a rare Chems DJ set though, and once we'd roamed around looking for the ideal spot, it was all lights, camera, action!



After the Stanton Warriors rocked the place in mid January, The Plumps have a lot to live up to. I'm sure they can handle it though, as the label favourites bring the Finger Lickin' sound to the Orange Rooms for the first time. One for the diary for sure...

Friday February 27th - Orange Rooms, Southampton

The Orange Rooms has never been so excitable. Finding room on the dancefloor was a challenge, but resisting getting sucked in and then blown away by the Plump DJs massive sound was impossible. That energy was passed through to an overpacked Orange Rooms in great style, but a retreat to a more comfortable space was forced upon us in the end. Still a great night, and more quality breaks than a Watchmen fight scene!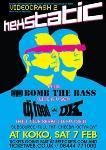 Hexstatic return to Koko with fellow AV pioneers Bomb the Bass to give a second chance to all those people who missed this the first time around to get wowed by the duo's spectacular AV sets in what is the ideal setting for this kind of show. With DJ Food and DK and a load more of the Ninja Tune crew on the line-up, this one is not to be missed...

Saturday February 7th - Koko, Camden, London

Ok, for once, I'll take that last bit back. If you did miss this, and you went to Videocrash the first time around, then you can sleep easy. I don't know what happened here, but this was not the night it should have been. Maybe because it wasn't a dedicated Ninja Tune night, or maybe I missed the point of it, but the attempt to cross too many styles of music (ie introducing ones I don't like! - which is really a pretty difficult task in itself!?!) made waiting for Hexstatic or DJ Food & DK actually not very enjoyable. I don't remember their names, and to be honest, I hope it stays that way...

...on to the next one then!



A revisit to The Westbury was always on the cards, and what better reason to return than seeing The Freestylers take on residents the Loose Cannons. Should be a great party!

Friday February 6th - The Westbury, Kilburn, London

Not quite the same hassle-free friendly atmosphere we've experienced before in The Westbury, but that didn't stop us or The Freestylers from having a great party. The Loose Cannons weren't really firing, and it was left to the active half Matt to bomb us with bass and breaks for the rest of the night. No problem as usual! Quality...



The Jazz Cafe welcomes back legendary trombonist Fred Wesley and a selection of the finest funk players from New York. Soulful grooves with a definite focus on making you move, this is a great opportunity to hear the authentic sound of James Brown and George Clinton brought out of the past and into London's premier jazz venue.

Friday January 30th - Jazz Cafe, Camden, London

At last, we get to experience first hand the full force of the funk. Killer tracks brought to life in the best way possible - live. These guys really are legends, and as soon as we got a tube stop away you could smell it! God damn dirty deep funk for your ass, and a group of musicians who were so cool they could turn brothers to ice with just a stare. So much soul in that place you could've raised people from the dead. You could even hear the bass player's Mama rocking her chair from the Heavens, looking down saying "Go Son, you show those white boys how to dance"....and boy did they show us....and boy did we love it. I want to go again and again and again. With the Breakin' Bread boys giving the dancefloor over to the b-boys for the rest of the night, this was a great night out, and one we'll never forget. I just hope they come and entertain us again soon. We can all live in hope...



Breakbeat Legends The Stanton Warriors make their first appearance at Southampton's Orange Rooms, one of just a few great acts due to appear at this cool venue over the next few months. Respect has to go out to the organisers for bringing such big names to the South Coast. Great stuff. Keep 'em coming!

Saturday January 24th - Orange Rooms, Southampton

Nu Skool Breaks has come a long way, and the Stanton Warriors are one of the finest examples of producers who adopt and build a sound in order to make it their own, before steering it in new directions and forging a path for everyone else to follow. Following on from the frenzied genre hopping of the new resident of the Orange Rooms DJ Featurecast, the boys brought order to the proceedings with a much more purposeful set that took us on a journey through electro beats and breaks from the past, before cementing themselves firmly in the present with over an hour of the freshest and funkiest breakbeat bombs currently doing the rounds amongst DJs on the Nu Skool scene. With Finger Lickin's Plump DJs booked for next month, we really are being spoilt by the Orange Rooms at the moment, and sold out success like this won't do the prospects of being spoilt some more any harm at all. It's all goin' off!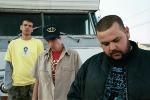 Old school flavours, funk filled beats and a conspicuous lack of gangland tales in their lyrics have earned Ugly Duckling worldwide acclaim, and the good time feel to their tracks make their brand of hip hop emminently danceable. So when they put a date on their tour that's within close reach...go grab it!

Friday January 16th - Talking Heads, Portswood, Southampton

With the tight scratches and funky beats of Young Einstein on the wheels of steel, and two of hip hop's most likeable characters MCs Andy Cooper and Dizzy Dustin providing the rhymes, Ugly Duckling properly entertained a packed Southampton crowd in the intimacy of the 250 capacity Talking Heads. What better way to receive these guy's brand of good vibe party hip hop? An interactive treat of a gig, with invitations to join them on stage going out to both wannabe MCs and dancin' girls alike, the UD boys just have fun! It's impossible not to join in, and with classics from the past banged out alongside tracks from the newly released album 'Audacity', the funk pervaded throughout, and a great time was had by all. Completely satisfied with everything they had to offer, yet itching to catch them again before they return to the US, Ugly Duckling really are top of their game when it comes to off the cuff rhymes and old school vibes.



'One ticket, three venues' is the selling point for this New Year's bash, and with quality entertainment in the form of The Nextmen and Justin Robertson right on your doorstep, there's no excuse for not making this the preferred choice for seeing in the New Year...

Wednesday December 31st - Orange Rooms, Southampton

What a night! Taking us up and up towards the midnight hour was Jalapeno Records remixer Featurecast with a truly eclectic mix of styles that was always going to guarantee everyone got in the mood, and was a perfect warm up for the main attraction The Nextmen. As always, the guys took us on the sort of ride that you'd wish for at any party, and the atmosphere in the Orange Rooms was deserving of an end of year bash. Great stuff, and more and more quality acts in store for 2009. Check it out, this place is on a roll!



Richie Hawtin takes over The End for the last time with his M_nus crew to round off the year in which the label celebrated it's 10th anniversary. With Layo and Mr C providing the entertainment upstairs in AKA, this looks like being the christmas party to end all christmas parties...

Saturday December 27th - The End, Bloomsbury, London



The Unabombers rearrange their christmas bash to a bigger, better and more booming venue after a late license was denied for the 20th. Catch them if you want to hear some real party music...

Saturday December 27th - Deaf Institute, Grosvenor Street, Manchester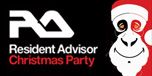 A rare DJ Set from Move D is the big pull for this one, although the rest of the line-up looks pretty tasty too, with Modeselektor boasting the AV set, and Kompakt's DJ Koze makes a rare appearance in the UK too...

Saturday December 20th - Matter, Greenwich, London



A chance to check out what all the fuss is about at the new state of the art club housed within the O2 Arena. If anyone's going to test that sound system with every style of music going, it's going to be Mr Scruff, and with the release of a new album of material to celebrate, this is going to be a blast!

Friday November 7th - Matter, Greenwich, London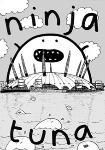 Mr Scruff's sound is becoming instantly recognisable, and the launch of his new 'Ninja Tuna' album at O2's new club Matter gave us the perfect opportunity to experience first hand the sonic capabilities of a much hyped 'body-kinetic' dancefloor. The military style security on the way in was unnecessary, and the decor inside bordering on dreary, the hype was not really justified in any way. All good fun though, and it was good to have some give under your feet when the call goes out to 'wobble those legs'...



Coldcut, DJ Food, Bonobo, Hexstatic, DJ Kentaro and special guests all join in celebrating 20 years of the broadest beats in London. It's hard to believe it's twenty years, but you can be sure that a milestone like that won't go by without some very special celebrations from all involved. We're looking forward to joining in and making it a night to remember...

Just one word...KENTARO!!!!!

Thursday November 6th - The End, Bloomsbury, London



As part of this year's Electric Proms, Ninja Tune legends Coldcut have been given access to the BBC's Radiophonic Workshop archives to produce this special invitation only show at Camden's Roundhouse. Special guests join Matt and Jon to discuss the workshop's output before live sampling of the original gear is incorporated into their set...

Saturday October 25th - The Roundhouse, Camden, London

We weren't lucky enough to get tickets for this, but you can read about it and see comprehensive footage here



Along with the DMC Championships, this event is a must for any b-boy or b-girl seeking the opportunity to watch the masters at work, and be stunned by the moves that these guys spend all year perfecting just for this show. At the moment, the Koreans are taking over the world, but maybe that'll just make the rest hungrier...

Sunday October 12th - Carling Academy, Brixton, London



DJ Vadim and Bonobo are the special guests this month for the monthly Soundcrash event at Cargo. A combination like that, at a venue like Cargo, has got to be worth checking out...

Saturday October 11th - Cargo, Shoreditch, London



Kilburn's swanky Westbury plays host to The Nextmen and their inimitable party sound. They cranked it up at Bestival in the Bollywood Bar, so we can't wait to see them in a slightly more intimate, comfortable and drier setting!!

Friday October 3rd - Westbury, Kilburn, London

A great venue for those intimate DJ sets we talk about all the time on these pages, The Westbury was the perfect place for this kind of night, with a friendly atmosphere, great decor, and bookable full size pool tables. The sound system could do with an upgrade, but all in all this place is going to get a definite revisit, and with the line-up of acts booked for the rest of the year including DJ Format, Mr Thing, and The Freestylers, it may well be pretty bloody soon!



This is it! The culmination of months DJ battles from DMC hopefuls and the best scratch DJs from all around the world come together for the Grand Final, hosted by Killa Kella. This is always a jaw dropping event, even more so after seeing the preliminary rounds quality from just about everybody who has taken part. It's gonna be Fr--Fr-Fr--Fr---Fresh!!!

Saturday September 27th - InigO2, Greenwich, London

Apart from some technical problems that obviously stunted some of the performers sets and made judging all the more difficult, this was a great exhibition of turntablism from the finalists. It was a close fought contest from the top contenders, but France's DJ Fly proved to be the obvious outright winner showing the widest range of skills and the tightest set. See all the results from this year's competition here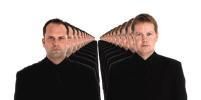 Hexstatic take over Koko with their unique AV show, shipping in a full size cinema screen to give it full impact! Along with an exclusive DJ and AV set from Solid Steel legends DJ Food and DK, and a live show and AV set from fellow Ninja Tuners Pest, this really is an unmissable opportunity...

Saturday September 13th - Koko, Camden, London

Woah! These guys have obviously been hard at work experimenting with new material and getting their heads around new and already existing software packages to create exactly what they want to stay ahead of the pack in terms of the revolution in entertainment that is AV mixing. Whether it be animation, video sampling or just reminiscing with classic pop videos, Hexstatic have produced a spectacular show that is right at home in Camden's Koko, making use of the massive rabbit warren like space and intelligently placed screens that are dotted all around the club. No hustling and bustling for a good view here, as a full size cinema screen hosts the duo's visual projection, making it easy to follow the big screen entertainment from any corner of the dancefloor or any balcony you care to inhabit, plus the added bonus of not missing a thing if you just fancy sitting down and relaxing or nipping off to the bar for a drink.

In terms of the music, Hexstatic manage to delve deep into the archives and find records that you couldn't possibly imagine would sound good together, to bring that extra element of surprise and satisfaction to what is an amazing show. It's not just about staring at the screen with your mouth wide open in appreciation of their awesome visuals...it's a party like any other (or in fact, like no other!). Stevie Wonder vocals and keyboards layered over The Clash basslines and drums, morph into a Prodigy booming beat. Happy Mondays riffs and percussion sit under a classic O'Jays bassline before a Public Enemy accapella sails on top. With all this and a few revisits to their previous classic work with Coldcut like 'Timber', and clever mixes that seem so obvious after the fact, like The House of Pain and Kriss Kross, they had time to build their set into something quite special, providing a 2 hour journey that was worth every penny of the ticket fee by itself, let alone the additional live sets from Ninja Tune's Pest and another AV show from DJ Food and DK.

These guys are creative geniuses, and making all this work together in one show just reminds us that they surely must be destined to provide this unique night out to many more people in the near future. Catch them in action when they come to a club/cinema/festival near you...



It is with great sadness that we learn of the death of funk legend Isaac Hayes after he passed away at his home in Memphis, Tennessee, aged 65. Hayes widely influenced musicians throughout the world with his innovative funk and soul during the 70s. He went on to compose numerous blaxploitation movie soundtracks, and timeless classics like the 'Theme from Shaft' will ensure he will be considered a legend in popular music history.


He was also a major influence in progressing one of the most treasured soul labels of the 60s and 70s - 'Stax', injecting both his natural musicianship and production ear to many of it's landmark releases, making it a household name. He was due to record a new album for Stax before he passed away. We were lucky enough to catch him on the Open Air Stage at the Big Chill last year, and seeing him perform in such a great location was a moment to treasure. His music will be sorely missed.

August 20, 1942 - August 10, 2008

Read his biography here



Possibly the last of Mr Scruff's quarterly residencies at Camden's Koko, at least until 2009 anyway...

Saturday May 10th - Koko, Camden, London

Third time in 3 months, but a completely different set, and an altogether much hotter and sweatier Koko still provides the perfect venue for Mr Scruff's 6 hours of musical meandering. He'll be performing at many a festival over the summer, but we'll be looking forward to this residency continuing in the winter months next year...a quality event!



Deep funk outfit Speedometer fill the space that is The Soul Cellar in the best possible way, giving an adequate, although maybe not quite as satisfying an alternative to the cancelled Freerange Festival. The special guest DJ Format adds to the attraction...

Saturday May 3rd - The Soul Celllar, Southampton


This festival has been confirmed (again) as being cancelled...


A new festival on the South Coast with a line up worthy of attending, outlining the sort of advances the provision of quality events in this area has shown in the last few years. Krafty Kuts, A-Skillz, DJ Format & Mr Thing all make this an attractive proposition, and about time too!!

Saturday May 3rd - Stoneham Park, Southampton



An awesome line-up of gritty, hard acid and electro makes this week-ender a teaser. See Juan Atkins as Model 500, Dopplereffekt, Modeselektor, Drexciya's DJ Stingray, Squarepusher, U-Ziq, Luke Vibert, Plaid, DMX Krew, Kelpe, Cylob, Phil Hartnoll, Altern 8,.....oh the list just goes on and on!!! If dirty bass is your thing, then don't hesitate!!

Friday April 25th - Monday April 28th - Camber Sands, East Sussex



Cargo plays host to one of the most exciting new acts of the moment - The Heliocentrics. Legendary drummer Malcolm Catto pulled together an outfit of free jazz and funk crazed musicians to spend 4 years recording their debut "Out There" on Now Again records, a subsidiary of Peanut Butter Wolf's Stones Throw Records. Backing Mulatu Astatke, this gig should be one of the most interesting so far this year, and a percussive treat for all. You also get the added bonus of Gilles Peterson spinning some tunes too.

Thursday April 17th - Cargo, Shoreditch, London

More Info and The Heliocentrics myspace or at Now Again Records

This was one of those nights where you're not sure what you're going to get and think you'll be prepared for what's coming and then walk away in amazement at the fact you've never heard anything like it before....and that's not to say I didn't know who The Heliocentrics were...the 'Out There' album is a great way of introducing yourself to the musicians involved, and the production makes it sound authentic, but you just can't beat the live experience...

This is how music has got entrenched in our psyche, and hearing such talented and hungry musicians play together in a packed room in Cargo, loving what they're doing, and feeding off each other at the same time, made this gig an unexpected treat. Mulatu joined The Heliocentrics, and with the respect obvious from the other band members, led the way in providing a combination of funk and jazz jams that had a life of their own.

You could do nothing but soak it all up and watch in awe as the show went on. Catch them again before they go home...

You can hear the recording of this show on Red Bull Music Academy Radio here



Renowned for their live performances, and chosen backing band for Mark Ronson's productions, The Dap-Kings join Sharon Jones for 3 funk fueled nights at Camden's Jazz Cafe, promoting the new album "100 Days, 100 Nights". The bonus on the Friday night is a post show DJ set from DJ Format.

Wednesday April 16th - Friday April 18th - Jazz Cafe, Camden, London


At last, one of the highlights of the festival season last year gets posted on YouTube, something we had to mention in our review of the event...

"Those lucky enough to get settled were part of another special moment when the encore began, and the rendition of Knight Rider into The Fresh Prince culminated in the biggest, and maybe the most unexpected sing-a-long of the festival as Yoda cuts the record to leave the crowd outgunning the sound system and the end of each line...

He then ended with A Tribe Called Quest asking the question 'Can I Kick It?' and the whole tent responded emphatically – 'Yes you can!' Hilarious! Someone must have it on YouTube by now……go check it out!"

You can use The Force and watch it here, or go over to the Dark Side


A return for the mid-90s trip-hop favourites and an opportunity for all those that missed them first time around to hear Beth Gibbons angelic voice sail off into the sea of sound......if only they'd booked a show at the Albert Hall.....anyway, don't miss out!

Thursday April 10th - Hammersmith Apollo, London

Thursday April 17th - Brixton Academy, London

Portishead web-site



A return after a long break from touring sees the Tru Thoughts favourites give Koko a well deserved injection of funk. More dates to follow....

Thursday 27th March - Koko, Camden, London

Wow! Will Holland returns from an extended trip to South America with a whole load of new friends to apply the QSO branding to, and with a click of the fingers, and a quick shuffle of the feet, the Quantic Soul Orchestra have transformed into a pleasingly entertaining, and very authentic sounding Latin Funk collective.

They took a little time to warm up, and the first few tracks lacked the same sort of punch and conviction we've come to expect from their performances. Perhaps they are only in the early stages of developing this sound for live shows, which might excuse them for not gelling with quite the same ease displayed in previous QSO outings, but the jamming aspect of some of the tracks as the show went on means catching these guys a bit later on in the tour is a must. Give them a chance to nail those grooves, and I'm sure they'll turn out to be an outstanding act.

With that in mind, it was great to re-live the Spanky Wilson tour when we got home, after buying a DVD from the tour shop of their La Maroquinerie show in Paris. Right at the top of their game, and beautifully complimented by Spanky Wilson's soulful vocals, this DVD has some sublime moments and the tightness and pure enjoyment these musicians show during the gig comes over well on the screen. Whether you caught them on this tour, or were completely oblivious to what you missed, take the opportunity to share in the fun...

You can buy the DVD at the Etch Shop here



Debut gig at the Jazz Cafe for Jack to Phono's Tom Eno, showcasing tracks from the forthcoming album, and providing support for the main act - Ben Onono...

Monday 17th March - Jazz Cafe, Camden, London

More Info and Tom Eno's MySpace



This month's A-Skillz treat...

Friday 14th March - The Orange Rooms, Southampton



Pies were so nice....we had to do it twice!! Mr Scruff returned to The Brook for a local instalment of the current tour, with AV screens and all filling the rather smaller stage than Koko, but as a result much more intimate. Nice to see the personal touch of shout-outs to local areas within the set, and everyone in the venue responded well to the demands to 'Wobble those legs'....

Thursday 6th March - The Brook, Southampton



James Lavelle's studio work gets an airing....

Sunday March 1st - Carling Academy, Brixton, London



The latest local instalment from Finger Lickin's A-Skillz...

Friday February 29th - The Orange Rooms, Southampton



Rob da Bank takes some Bestival 2007 favourites out for a re-union bash, luckily starting right on our doorstep! The Cuban Brothers return to the South Coast for a night at The Orange Rooms.....

Thursday 21st February - The Orange Rooms, Southampton



The Jazz Cafe plays host to another funk legend, the backbone to numerous tracks from the likes of James Brown and George Clinton, this is sure to be a great night out, and with the line-up of acts to follow in the coming months including a new Freestyle Records album launch, DJ Cash Money, Mad Professor, Andy Smith, Max Romeo, Grandmaster Flash, Jazzanova, The Skatalites, The Blackbyrds, Gilles Peterson and Martha Reeves and the Vandellas, it looks like this venue could be set to become a second home! Do they allow tents on Camden High Street?

Tuesday 12th & Wednesday 13th February - Jazz Cafe, Camden, London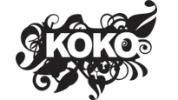 Mr Scruff's London residency continues at Koko, with the usual 6 hours of......well.......just about everything!

Saturday February 9th - Koko, Camden, London

We arrived off the tube to be greeted by Police and fire engines, as a large part of Camden was cordonned off as part of the market and surrounding area was engulfed in flames! Luckily, it didn't affect our stroll down to Koko, or our enjoyment of what turned out to be one of the most satisfying club nights I've been to.

The venue was pretty amazing in itself, originally opening as a theatre in 1900, with a rich history of hosting events right through to it's refurb in 2004. They've kept the feel though, and with the endless balcony bars and gallery boxes, it was fun exploring while Scruff's set followed you every step of the way. Plenty of lounge areas to take a break and relax, and a good size dancefloor to let go of your inhibitions.

As the music goes, you can't ask for more than what Mr.Scruff provides. His sets are sleek, purposeful, and eclectic, and to consistently knock out tune after tune in such a seamless way shows the effort he puts into set-building. But what comes out overall is his obvious love for the music he's playing, and his criteria for only playing 'music with soul' actually provides a window into his soul too.

The mix of styles is handled superbly, and the range of music is something that makes producing what to some DJs would be an impossible task, a necessity. Six hours is a long time for anyone to maintain that level of focus, but the variety of music on offer means themes can be stuck to, and transitions between styles can be natural and evolving.

That's what makes Mr.Scruff a successful DJ, and that's why me, and probably everybody else in that place on Saturday night, won't hesitate to go back and see him DJ again. If taking care of the sounds in a club was like preparing food in a restaurant, Mr.Scruff would have Michelin stars in abundance.......and he makes a good cup of tea too!

You can see Mr.Scruff again at Koko on Saturday May 10th - more info


February 1st sees a tribute to the late Oscar Peterson broadcast on BBC4, with a whole night dedictaed to the legendary jazz pianist. 2 great live performances, plus 2 extremely interesting documentaries pay tribute to Peterson's career and show the side of him that made him much loved by so many people.

If you can't spend Friday night in, set the video to record and you won't be disappointed.

Friday 1st February - BBC4 Freeview Ch 9 20.30-00.45


From the archives of Solid Steel comes this beauty, currently broadcast via the web on Ninja Tune's Solid Steel web-site. Turn on, Tune in and Drop Everything!

See the playlist here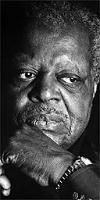 Legendary pianist and composer Oscar Peterson, who we were extremely lucky to see perform for the last time in this country at The Royal Albert Hall in 2005, has died at the age of 82 in his home in Toronto. With over 200 albums, and a list of co-performers that reads like a history of Jazz, his music will live on, but his presence will be sorely missed. Although visibly fragile during that performance, the dexterity of his hands was still obvious, despite losing some movement in his left side as a result of a stroke in 1993, but ultimately it was the emotion in his songs that shone through, perfectly complimenting the acoustics and ambience of the Albert Hall. It was a memorable night, and an honour to have attended.

Originally a trumpet player, who took up the piano early in his career after a bout of tuberculosis, Peterson worked with such jazz icons as Dizzie Gillespie, Charlie Parker, Duke Ellington, Nat 'King' Cole, and later Herbie Hancock, and his contribution to music was celebrated with a lifetime achievement Grammy in 1997. He went on to become the first person outside of the Monarchy to have his face on a Canadian commemorative stamp, and was due to receive the Founders Award from the Canadian Songwriters Hall of Fame in 2008.

We join thousands of others in offering our condolences, and saying thanks to this musical legend for providing the world with such joy.

Oscar Emmanuel Peterson, August 25 1925 - December 23 2007

Read his Biography here



DJ Format & Mr. Thing back to back 4 deck battle to promote the new Holy S**t! mix CD. Not to be missed...

Friday 21st December - Big Chill House, Kings Cross, London

It was instantly obvious when these two took over the turntables, and the battle that commenced was more like an exhibition match than a competitive grand slam. Two guys really enjoying the opportunity to show off their skills, pick the breaks, scratch the beats and fill the dancefloor with funk.....and boy, did we want a piece of it! Sorry to anyone who was dancing next to us? Perhaps that's not the best way to share our beer, but we were just so down with the Ding Dong! A great night out was had by all...



It's a Nextmen Party! In association with Addict Clothing Co, the boys run riot again in The Orange Rooms, promoting (and giving away on entry!) their latest mix CD. A treat not to be missed....

Friday 14th December - Orange Rooms, Southampton

The Nextmen continue to update their sound and develop their sets in order to provide exactly what you expect - a party that shouldn't be missed - and with their latest promo Mix CD being handed out at the door, you get the opportunity to relive the excitement of the night in your own home anytime you like - even if that means, as it did for my mate Dan, as soon as you get home at 2 am after the gig!

Some people are just party animals.......



Vocalists Omar, Hil St Soul and Donna Gardier join the Hammond legend for two nights of sweet soul music...

Saturday 8th & Sunday 9th December - Jazz Cafe, Camden Town, London



Scruff blesses The Brook for some Friday night mayhem

Friday 7th December - The Brook, Southampton

More Info and Mr Scruff's Ninja Tune Profile with more tour dates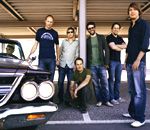 After the 19th October show was cancelled, the German collective who's remix skills are on everybody's wish list, returns to the Jazz Cafe.

Friday 30th November - Jazz Cafe, Camden Town, London



Format returns home to give the locals an update on the contents of his record bag, and I've got a feeling the hip hop is getting thinner and the funk is getting fatter! It'll be fun whatever....that's guaranteed.

Thursday 22nd November - The Orange Rooms, Southampton



Fabric gets transformed into a surreal fantasy world for the launch party of this new night, with special guests from New York providing installation art (John Jodzio) and music (Anita Sarko), alongside an experimental selection of live acts including Martyn Ware's 'Future of Sound' project, promising to make enough of an impact to make this a regular diary entry.

Thursday 22nd November - Fabric, London

This event was previewed before we attended. To read it click here

Inhibited by a poor turnout (or perhaps the choice of venue?), Oberon struggled to live up to it's potential in many ways. The evening started off in fine form, with The Irrepressibles providing a theatrical stage display that perfectly complimented the efforts of John Jodzio to create the sort of artistic atmosphere the event promised. The sound produced by this 10 piece orchestra was full of drama and their lead singer Jamie McDermott commanded the stage with his powerful vocals. Think Jake Shears meets Adam Ant and you're not far off? The performance was exemplary and as an act their uniqueness should earn them a successful run on the Festival circuit next year.

Anita Sarko took to the DJ booth with good effect too, with a varied choice of tracks to try and get the dancefloor moving, but when Black Sheep's "The Choice is Yours" doesn't even do the business you know there's got to be something wrong. Horse Meat Disco DJs Jim Stanton and Severino looked like they were loving the Fabric sound system, and tested it to the max as they built a great set of electro tinged tech-house and disco. Given a packed house, I bet these guys know how to party. Check them out here on MySpace

A slightly worse for wear looking SaltPeter did little to generate any excitement, as the pair found it hard to get the response tracks like "Johnny Disney" and "Hunger's the Best Sauce" deserved, and the set lost any remaining flow it had once the technical problems kicked in. Neither were able to bring that spark to the show that was necessary.

Martyn Ware's Future of Sound project finished things off with a completely uninspiring show from The Sancho Plan (good concept poorly executed), and a 3D DJ concept that again experienced technical problems. The acts that make up this project (including Robin Rimbaud aka Scanner) offer far more than was on show here, and we're still keen to embrace the innovation some of the show's artists offer, but that's going to mean attending a dedicated night to get the most from it, although it was great to hear Martyn Ware's distinctive vocal style get an airing at the end.

This event would have benefited from a smaller venue for this launch, and perhaps filling out even two rooms of Fabric on a Thursday night is always a little ambitious, but still keep your eye on what's on offer here. It would have been a different story with some more support.

Click here for the latest Fabric line-up and here for the latest on Martyn Ware's Future of Sound project



The Guardian music writers combine to give you their Top 1000 influential albums in a week long supplement that, although you won't be interested in all of it, is always a good source of opinion on the history of great releases. Worth a read...

Saturday 17th November - Thursday 22nd November


From 12th to 18th November - Association of Photographers Gallery, London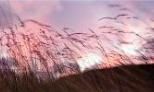 An exhibition of panoramic landscape photography compiled while on a 30 day trek of South America, focussing on sunsets and sunrises, producing emotive images portraying both the physical and mental ups and downs of this spectacular journey.

There's a story behind these pictures, and it's a running theme that deserves attention in it's own right. The inspiration and motivation for this project was personal for Jamie Baker - the deterioration of his Father's health put the journey in jeopardy, but it was the encouragement from his Father that gave new meaning to the project, and as a result the project gained additional drive.

But it's the detailed sub-plot that grabs the viewers' imagination. Images of panoramic beauty adorn the gallery walls, offering the kind of inherent omniscience the landscape affords, alongside intimate portraits of South American lifestyle. The dawn and dusk shots capture the moody ambience that any photographer thrives on, but it's the brightness and detail of the forests and mountains of the Amazon that radiate warmth and feeling.

Urban areas inspire a change of focus, and the view is made more intense and personal with images of Bolivian children entranced by the local bullfight, and the verve and energy of Brazilian nightlife. The black and white pictures have an eternal quality, and the size of the prints exhibited makes falling into them all the more inevitable.

We all create our own angles, but Jamie Baker's is definitely one worth sharing, and this emotive exhibition is successful in that the images on show provide more than enough acquired knowledge to bring us one step closer to feeling and knowing what it is like to live and be in South America.

Ultimately, it's the story in the pictures that makes this exhibition a must see...



Gilles Peterson opens with a set of New York Latin Soul before The Roundhouse is treated to a Salsa Spectacular in the form of Larry Harlow's Latin Legends - a group formed from some of the greats from the Fania era.

Saturday 17th November - Camden Roundhouse, London


Friday 2nd November - The Big Chill House, Kings Cross, London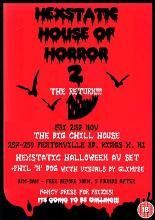 The masked duo mashed up their own mash-ups in a rather sombre Big Chill House. The music deserved a more responsive audience, and I'm getting the impression from a few visits to this venue that any association with The Big Chill vibe and their reputation and high standard of event organisation is being compromised by the general mish mash of people that attend. You get the impression most people are just going there for a drink on a Friday night oblivious to any effort made by the promoters to provide special entertainment and the heavy handed security witnessed on more than one occasion just detracts even more from what should be a great place to be. Shame....

Watch out for more Hexstatic tour dates here


Friday 2nd November - Royal Albert Hall, London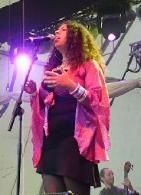 Ninja Tune's moody jazz masters take the audience as far away from the hustle and bustle of Central London as you can possibly imagine with a 2 hour set of dreamy ambience and subliminal soundscaping. Some of these tracks just sucked you in and took you drifting on another plane - so much so that you just didn't want to come back. The perfect venue for this kind of show, and the reluctance the 40 performers on stage showed when it was time for the show to end was only magnified by the standing ovation provided by every corner of the Albert Hall's audience. No-one wanted this to end - after all, who does want to leave Heaven anyway? Music is a powerful thing...

Cinematic Orchestra web-site and MySpace site


Monday October 29th - Purcell Room, South Bank Centre, London


Colette McWilliams' film beautifully captures the evolution of Shlomo's Beatbox Choir project, documenting the initial meeting of two very different musical groups, through the early stages of development and experimentation, right up to the presentation of the result to the public.

This documentary gave an insight into the creative process behind what was an ambitious project by Shlomo to move away from the MC Battle format generally associated with Beatboxing shows, and the occasional novelty gap-filler in between 'proper' performances. The resurgence of beatboxing as an art-form, and the advances made by those experimenting, warranted a platform of it's own to showcase the talents of all involved, but more importantly to highlight the potential of the human voice is an instrument in it's own right. What better way to do that than build all the elements of a musical performance with people using solely their vocal chords?

Shlomo invites a classically trained accapella group - The Swingle Singers - to join a crew of beatboxers to attempt to fulfil all those elements, and the initial meeting of the two groups to share their talents starts off as fun, with all involved willing to adopt the other's techniques and share their skills, but once the deadlines for performances get closer, the project transforms into something quite different. The film does extremely well to capture the feelings of all involved when they realise they are part of something a whole lot bigger than the sum of it's parts, and the emotion the resulting music generates is transmitted to the screen in a way that is difficult to describe.

If the success of the film should be measured on anything, it should be the foresight of the film-makers to predict this project could work, and the ability they have shown to capture and transmit those emotions to the viewer. The success of Shlomo and the Vocal Orchestra itself was measured by the response the crowds had to their live shows throughout the year, culminating in the great performance already talked about when they appeared at The Big Chill in 2007.

For me, the best thing about this project is the fact that it saw it out to the end, and is what the ICC is all about - a vision born of ideas, backed up by people willing to embrace it and push it to the limits, ending in the materialisation of something new and completely different that touches people in a way you couldn't predict. Huge congratulations to all involved.

Keep up-to-date with Shlomo here and on MySpace

© 2006-13 Image Creation Corporation. All rights reserved.